Helping you make progress.
Achieving inclusion-related goals requires change, and change can be difficult – even with perfect alignment. We help build employees' change resilience, including adopting a mindset of "progress over perfection" to build and sustain inclusive habit.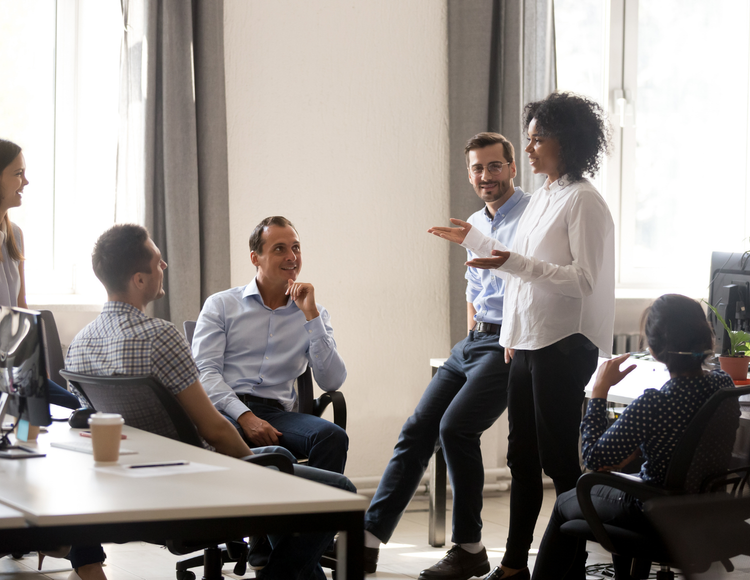 Adapting to an inclusive workspace
Our workshops are engaging, approachable, and help people adapt to the inclusive workplace by providing the space they need to:
Understand how inclusive workplaces help everyone's success
Identify the behaviors and actions that create inclusion and belonging
Create their own, unique inclusive behavior blueprint
Practice new behaviors (and fail and practice again) in a supportive environment until they can use them with confidence
Small group break-out sessions
*Optional post-workshop practice sessions
Private or open group sessions
Private
Workshops
We will facilitate a workshop with your group exclusively, with the option to customize the training to your goals.
Community
Workshops
Attend a community workshop or practice session, joining other individuals as you learn and practice inclusion and allyship.
Goal Setting & Change Management
Engage us to help you set inclusion goals and establish actionable change management plans for your organization or employee resource group.
Engaging empathy

Becoming adept at seeing things from others' perspectives helps to enrich everyone's experience – including yours.
Acclimating to Discomfort

Just like learning a new activity, building inclusion skills requires managing and acclimating discomfort as your "change muscle" develops.
Choosing Action

Inclusion and allyship require intentional action. Learn how to identify and summon the courage to implement actions that are effective and authentic to you.
Recovering from Mistakes

Mistakes are inevitable, but learning from them requires intention and practice. Learn to demonstrate grace and resilience in conflict.
Facilitating Productive Discussions

The work of coordinating group DEI discussions often falls to volunteers. Learn how to prepare and facilitate meaningful meetings that further your goals and demonstrate inclusive behaviors.
Ready to learn more about The League?
Book a consultation.